Warriors' Favorite Things
The five days of giveaways contest is back! Starting on October 4, a new prize package will be revealed each day. Answer the question on Instagram and you could be a winner. Tag a friend for an extra entry.
Check back every morning the week of October 4 for the daily prize package reveal.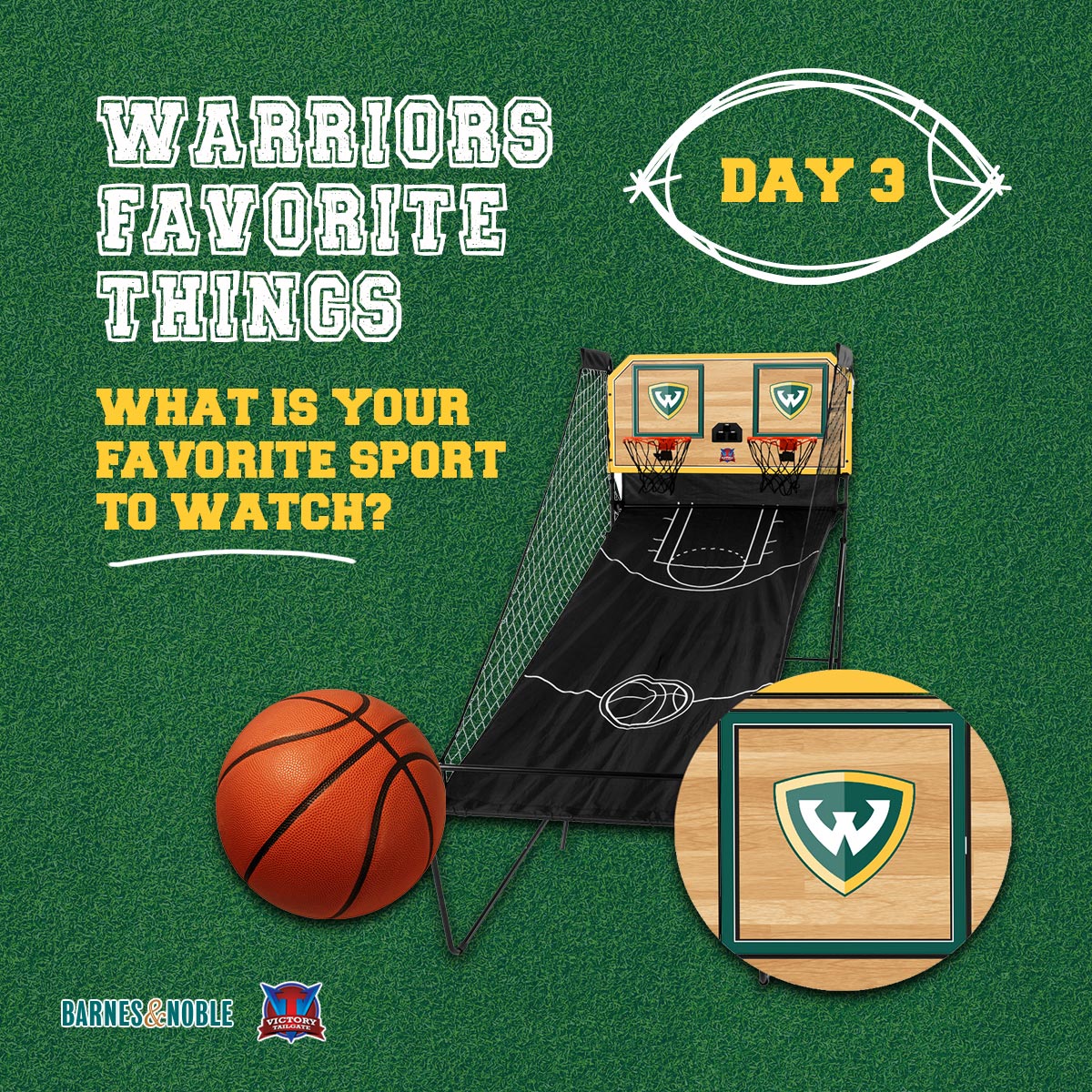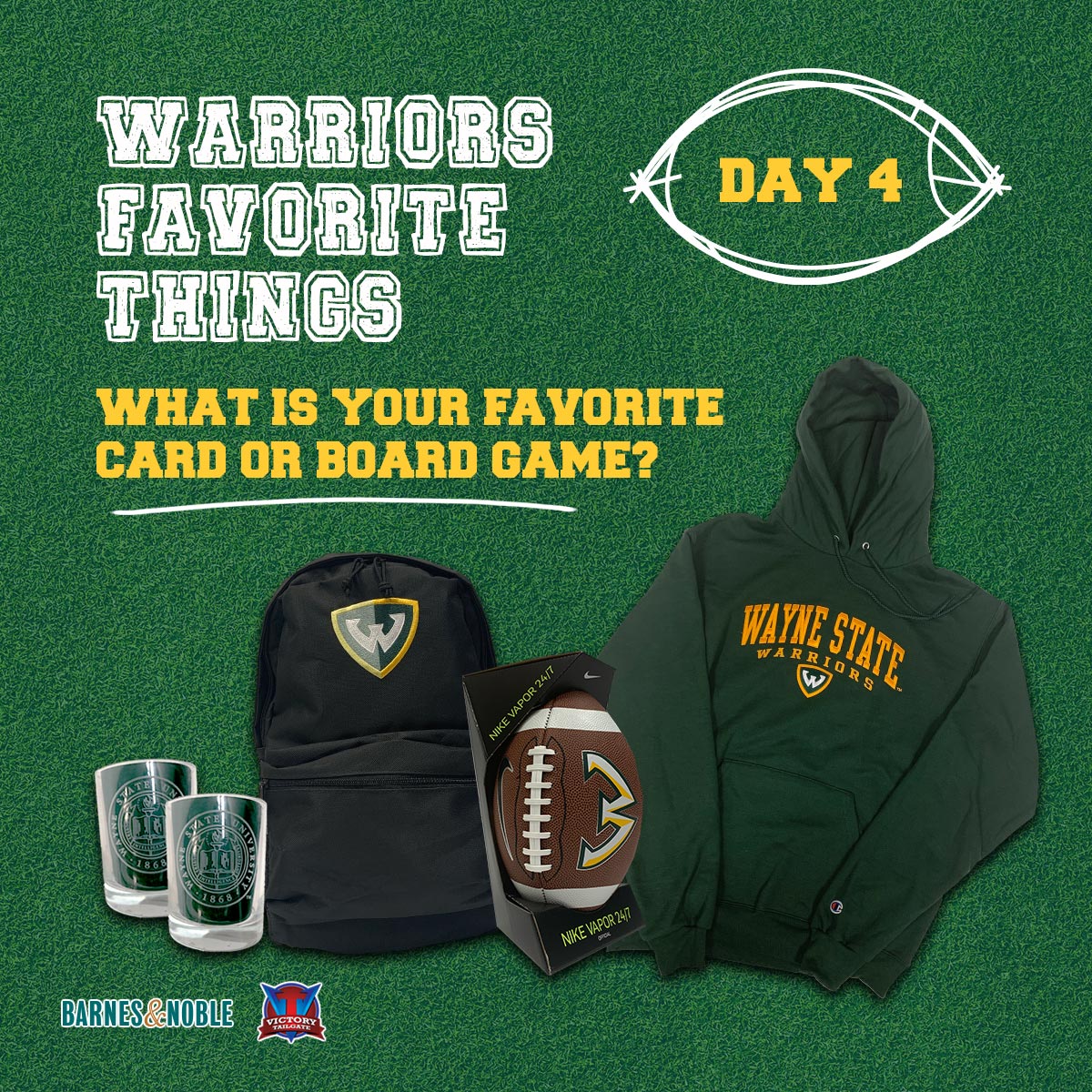 Instagram contest
THESE TERMS AND CONDITIONS GOVERN YOUR PARTICIPATION IN THE "Warriors' Favorite Things" by Wayne State University's Office of Marketing and Communications.
1.    NO PURCHASE OR PAYMENT OF ANY KIND IS NECESSARY TO ENTER OR WIN THIS SWEEPSTAKES OR TO RECEIVE A PRIZE. A PURCHASE WILL NOT AFFECT OR IMPROVE THE CHANCES OF WINNING. This sweepstakes ("Sweepstakes") is subject to all applicable laws and regulations. Void where prohibited or restricted by law.
2.    Sponsor: Wayne State University Office of Marketing and Communications, 5700 Cass Ave. Suite 3100, Detroit, Ml 48202 ("Sponsor"). This Sweepstakes is not sponsored, endorsed or administered by, or associated with, Instagram.
3.    Eligibility: Sweepstakes is open only to legal residents of the United States (including Puerto Rico but excluding Guam and all other U.S. and foreign territories and possessions not otherwise mentioned herein) who are at least 13 years of age and who have an Instagram account (no purchase or payment is necessary to sign up for an Instagram account). Please note that Instagram membership is not controlled and cannot be guaranteed by Sponsor. Sweepstakes is not open to employees of the Office of Marketing and Communication.  
4. To Enter: To enter, complete the following steps: Step 1: Follow the Wayne State University Instagram page online, at https://www.instagram.com/waynestate/. If you do not have an Instagram account, visit Instagram to get started. Step 2: Watch for a photo posted to the Wayne State University Instagram page October 4-8. Step 3: Answer the posted question in the comments of the post for one entry to the content. A second entry can be gained by tagging one other person's Instagram account in the post. Only comments and tags posted by 11:59 p.m. on that day's post will be entered to win. Use of multiple Instagram accounts by the same individual to enter is prohibited and such multiple entries shall be voided. In the event of a dispute regarding the identity of the person submitting an entry, the entry will be deemed submitted by the authorized account holder of the email address associated with the Instagram account of the entry, which the entrant will have the obligation to establish. Entries generated by a script, computer programs, macro, or other automated means will be disqualified. Sponsor is not responsible for late, incomplete, misdirected, delayed, or undelivered entries, including without limitation inability to access Sponsor's or the entrant's Instagram, or entries not timely received due to telephone failures, Internet or website failures and disruptions, and ISP problems. Incomplete information may result in disqualification of entry. All eligible entries carry an equal chance of winning.
5.    Sweepstakes Period: Sweepstakes begins on October 4 ends October 8, 2021 (the "Sweepstakes Period").
6.    Selection of Winner: One winner will be randomly selected daily by the Sponsor and the potential winner will be acknowledged on the Wayne State University Instagram, in a Wayne State University comment. If the potential winner forfeits a prize (see Section 9), an alternate winner will be selected from all remaining eligible entries until a winner is determined. The odds of winning depend upon the total number of eligible entries received. All decisions of Sponsor are final and binding on all entrants.
7.    Prizes: One winner will be selected each day for prize packages with the following retail value.     
Monday, October 4, 2021 approximate retail value is $180     
Tuesday, October 5, 2021 approximate retail value is $96     
Wednesday, October 6, 2021 approximate retail value is $200     
Thursday, October 7, 2021 approximate  retail value is $167     
Friday, October 8, 2021 approximate  retail value is $161    
All prizes are non-refundable and non-transferable, cannot be combined with any other special offer or promotion and must be accepted as awarded. Prize may not be exchanged for cash value or substituted, except as may be deemed necessary by Sponsor. Sponsor reserves the right where necessary to substitute other comparable prizes of substantially equal or greater value. Winners, by acceptance of any prize agree to be fully responsible for any liability related to or arising from their receipt or utilization of any prize awarded, including personal tax liability. Sponsor reserves the right, in its sole discretion, to cancel, modify, or prematurely conclude the contest for any reason. Applicable federal, state or local taxes and any other costs or expenses associated with the prize or the use or redemption thereof are the sole responsibility of the winner. The Sweepstakes is an independent promotion for consumers conducted by the Sponsor.
8. By participating, each entrant agrees to comply with these official rules. Sponsor is not responsible for any incorrect or inaccurate information, whether caused by any of the equipment or programming associated with or utilized in the Sweepstakes or by any technical or human error that may occur in the processing of entries in the Sweepstakes. Sponsor assumes no responsibility for any error, omission, interruption, deletion, defect, delay in operation or transmission, communications line failure, theft or destruction or unauthorized access to, or tampering with or hacking of, the Sponsor or Instagram websites or any technical failure or malfunction, or any injury or damage to an entrant's or any other person's computer or property. IN NO EVENT WILL SPONSOR, INSTAGRAM OR ANY SWEEPSTAKES ENTITIES BE RESPONSIBLE OR LIABLE FOR ANY DAMAGES OR LOSSES OF ANY KIND, INCLUDING DIRECT, INDIRECT, INCIDENTAL, CONSEQUENTIAL OR PUNITIVE DAMAGES ARISING OUT OF ENTRANT'S PARTICIPATION IN THE SWEEPSTAKES, ANY PRIZES WON, ENTRANT'S ACCESS TO OR USE OF SPONSOR'S WEBSITES OR THE WEBSITE, OR THE ACCESSING, DOWNLOADING AND/OR PRINTING OF ANY MATERIAL AVAILABLE ON SAID SITES. WITHOUT LIMITING THE FOREGOING, EVERYTHING ON SPONSOR'S WEBSITES IS PROVIDED "AS IS" WITHOUT WARRANTY OF ANY KIND, EITHER EXPRESSED OR IMPLIED, INCLUDING BUT NOT LIMITED TO, THE IMPLIED WARRANTIES OF MERCHANTABILITY, FITNESS FOR A PARTICULAR PURPOSE OR NON­INFRINGEMENT. SOME JURISDICTIONS MAY NOT ALLOW THE LIMITATION OR EXCLUSION OF LIABILITY FOR INCIDENTAL OR CONSEQUENTIAL DAMAGES OR EXCLUSIONS OF IMPLIED WARRANTIES SO SOME OF THE ABOVE LIMITATIONS OR EXCLUSIONS MAY NOT APPLY JN THOSE JURISDICTIONS
9. By accepting a prize in this Sweepstakes, each winner grants to Sponsor, where permitted by law, the right to use and publish (worldwide and via the Internet), in perpetuity, his or her name, city and state of residence, portrait, image, picture, voice, likeness and comments for advertising, trade and promotional purposes without any notification, opportunity to review, right of approval or additional consideration whatsoever provided to him or her. To receive a prize, the winner will be required to provide entrant's full name, email address, resident address, birthdate, zip code, and link to their Instagram page. The winner may also be required to complete, sign and return an affidavit of eligibility and liability/publicity release, prepared at Sponsor's cost and at Sponsor's sole and absolute discretion. A winner's prize will be forfeited and awarded to an alternate winner (selected by random drawing in accordance with Section 6) upon the occurrence of any of the following: (i) the failure of winner to confirm acceptance of the prize and return any required documents/information within 24 hours of prize notification by Sponsor; (ii) the return of a prize or prize notification to Sponsor as non-deliverable; (iii) the determination by Sponsor that winner is ineligible or otherwise not in compliance with these official rules; or (iv)_the winner's inability refusal to provide such affidavits or releases as Sponsor may request in its sole and absolute discretion. BY ENTERING THE SWEEPSTAKES AND/OR ACCEPTING A PRIZE, EACH PARTICIPANT AND WINNER AGREES TO DEFEND AND INDEMNIFY SPONSOR, INSTAGRAM AND ALL SWEEPSTAKES ENTITIES, AND HOLD SPONSOR, INSTAGRAM AND ALL SWEEPSTAKES ENTITIES HARMLESS, FROM ANY AND ALL LIABILITY FOR ANY INJURY, LOSS OR DAMAGE OF ANY KIND TO PERSONS, INCLUDING PERSONAL INJURY AND/OR DEATH, AND LOSSES TO TANGIBLE AND INTANGIBLE PROPERTY, ARISING FROM OR IN CONNECTION WITH ACCEPTANCE, POSSESSION, USE OR MISUSE OF ANY PRIZE, PARTICIPATION IN THIS SWEEPSTAKES OR ANY SWEEPSTAKES-RELATED ACTIVITY.
10.    Sponsor is not responsible for any changes or unavailability of any third-party service (including, but not limited to, Pinterest, Facebook, Instagram, Twitter, Google and/or Google+) that may interfere with the Sweepstakes (including any limitations, restrictions or conditions on Sponsor's ability to use such services for the Sweepstakes) or the ability or inability of any entrant to timely enter, receive notices or communicate with Sponsor. If, for any reason, the Sweepstakes is not capable of running as planned because of circumstances including, but not limited to, website outages or interruptions on Sponsor's or any third-party service provider's website, unauthorized intervention, fraud, technical failures, or any other causes, which, in Sponsor's sole judgment, corrupts or affects the administration, security, fairness, integrity or proper conduct of this Sweepstakes, Sponsor reserves the right, in its sole and absolute discretion and determination of fairness, to cancel the Sweepstakes.
11.    By registering to enter the Sweepstakes, each entrant acknowledges he/she has read, understands and will abide by these terms and conditions. All issues and questions concerning the construction, validity, interpretation and enforceability of these terms and conditions, or the rights and obligations of entrants and/or Sponsor in connection with the Sweepstakes, shall be governed by and construed in accordance with, the laws of the State of Michigan, without regard to the conflict of laws principles. In the event of any inconsistency between the full version of these terms and conditions and any abbreviated statement of these terms and conditions, the version most beneficial for entrants shall prevail.